I've had so many positive comments about this photo, we've decided to host a photo contest.  (Thanks, Mel, for the inspiration!)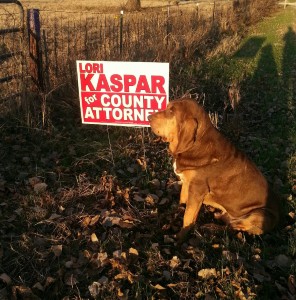 So in the spirit of of "Elf on the Shelf" and "Flat Stanley," here's how it works:
Take a photo of one of my campaign yard signs.

In an unusual location, or
Stand beside it in a costume, or
Put it next to your favorite furry friend, or
Whatever floats your boat!

Upload your photo to my Facebook campaign page before midnight on January 31, 2016.
Winners will receive a batch of Lori's famous homemade fudge (not available in stores!).
We're looking for the funniest, most creative entries – so get your imaginations going!