Services
I practice in Hood, Erath, Somervell, and Johnson counties in the following areas of law:
Criminal
Criminal Defense
Criminal Appeals
Writs of Habeas Corpus
Criminal Expunction & Non-Disclosure
Civil:
Child Protective Services (CPS) Cases (representing parents and intervenors)
CPS Appeals / Mandamus actions
Civil Related to Criminal:
Occupational Driver's License
Juvenile Defense
Probate: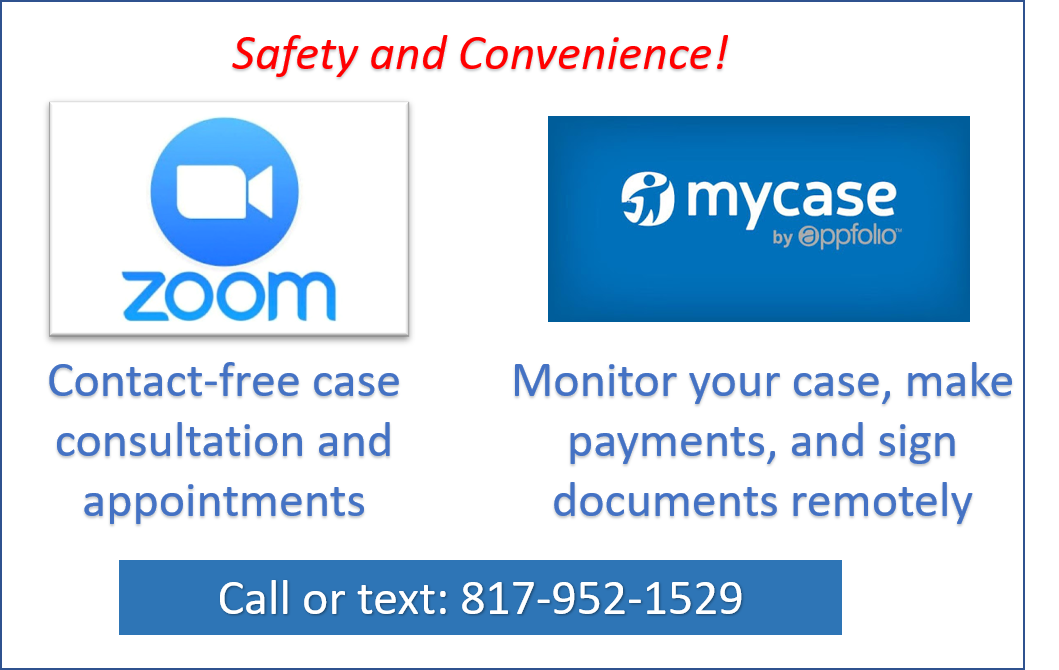 Contact Lori
LET'S TALK ABOUT YOUR LEGAL ISSUE.
Note: If I don't answer when you call, I am likely in court, with a client, or teaching a law school class–so be sure to leave a message. A member of my staff or I will get in touch with you as soon as possible.
Se Habla Español
Fax:  817-435-8234
Lori – Attorney
Sharla- Legal Assistant
Office Address:
1305 West Pearl Street
Granbury, TX 76048
Our office is in the Pearl Street Plaza across the street from Hood County Adult Probation
Office Open:
Monday – Thursday
Friday (by appointment only)
You need me on YOUR side — so get in touch with me today!
CLIENT REVIEWS
"Lori Kaspar did a better job as my court-appointed lawyer than any lawyer I ever paid for.  She worked hard for me and did an excellent job keeping me updated on my case.  She is the 1st lawyer I would have been happy to pay for her services.  She deserves it, she's that good and I wish her the best.  GOD BLESS."
"You kept me updated and informed during my case."
"I want to thank you Ms. Kaspar for an outstanding job you have done representing me on my case.  You have gone above and beyond and out of your way to check up on the other cases that you haven't been hired for making sure things go right for your client.  Your professionalism and wisdom will always be appreciated."
"Ms. Kaspar provided me not only sound legal advice and expertise, she went up and above in her customer service.  I always received timely communications form her and her office staff regarding my case.  She always provided the most current legal strategies and advice.  I would highly recommend her and her staff to anyone needing an attorney of excellence."
"Lori Kaspar did some legal work for us a while back.  She was very efficient and the price was very reasonable.  Her law firm is highly recommended by us."
"Outstanding, proficient, and to the point.  Thanks for all you do!"
"I have been in the system my whole life and dealt with too many lawyers to count.  Lori Kaspar is truly the best.  I have never encountered an attorney as kind-hearted and non-judgmental.  She really cares about people and that is something very rare.  Not just among lawyers but in this world – period.  She is amazing!  As a person and especially as a lawyer."
"Ms. Kaspar is very thorough at her job and consistently stays in contact."
"Lori is a very good person to have on your side when you need help.  Highly recommended."
"I am grateful to have dealt with Ms. Kaspar.  She has the knowledge to fight for what's right and takes your best interest to heart.  I would recommend her a thousand times over."
My experience with Lori exceeded my expectations.  Lori was professional and went out of her way to help me.  I had to get a power of attorney for my father and she went to him in the nursing home to get it signed.  She showed him so much kindness and was very courteous.  Thank you for making this easy for us.
If you need a good lawyer this is the one.  She is compassionate and understanding.  If I need a lawyer again, I would go to her.
Ms. Lori is a very hardworking woman willing to do anything for her clients to get as few years as possible.  I was caught red-handed on a Felony 1  (5-99 years) and got a single digit number.  Ms. Lori answers her phone and answers all questions.  She is worth the chance.  Thank you for everything!
"Ms. Kaspar sets herself apart and above the other attorneys in Hood County.  A true professional, she found an intricacy in my case and used it to our advantage to get me the best possible outcome. Ms. Kaspar is very highly recommended.  I wish I knew of her 20 years ago so I could have used her in all of my legal affairs."
"I caught a heroin charge in Granbury, Texas.  She got the charge dismissed.  She's 10 stars for real."
My experience with Ms. Kaspar was that she did her best to get me as fair of a deal as possible.  She is an excellent attorney.  I recommend her every chance I get.  Very professional.  Don't miss the opportunity to have her on your case.
I really appreciate the due diligence and hard work put into my legal representation.  Very fast and efficient.  I highly recommend her services.  5 stars. Without a doubt, one of the very best.
"Thank you for representing me on the traffic citations.  I am so happy you were able to take care of them for me.  P.S.  You did a great job!"
Lori Kaspar is one of the best lawyers to step into a courtroom.  Very respectful and works diligently to pursue innocence.  I would recommend her to any and all.
Ms. Kaspar represent me on a first-degree arson charge.  She filed some real tough motions in my defense including a habeas corpus motion and appeal.  She got me 2 years state jail instead of 5 – 99!
Lori will always communicate with you.  She doesn't charge an arm and leg but she fights for you like you paid a million.  When Lori represents you, you would think you're her only client.  Thanks to her I'm only doing 14 months and not 40 years.  Thank you so much.  God Bless.
Client Reviews found on this website are actual reviews of Lori Kaspar Law. We appreciate our clients and their willingness to share their experiences. Please keep in mind that the success of any legal matter depends on the unique circumstances of each case: we cannot guarantee particular results for future clients based on successes we have achieved in past legal matters.
NOTICE:
Licensed to practice law in Texas. Not licensed by the board of legal specialization.
The material contained in this website site and any attached or referenced pages has been written or gathered by Lori J. Kaspar, attorney at law of Granbury, Texas.  It is for informational purposes only. It is not intended to be and is not considered to be legal advice. Transmission is not intended to create and receipt does not establish an attorney-client relationship. Legal advice of any nature should be sought from legal counsel. Lori L. Kaspar, attorney at law, 1307 West Pearl Street, Granbury, Texas 76048 (817) 952-1529.
RECENT POSITIVE CASE RESULTS
Every case is unique, so no outcomes can be guaranteed.
Here are some of our recent successes:
CRIMINAL CASES
| YEAR | COURT | ALLEGED OFFENSE | RESULT |
| --- | --- | --- | --- |
| 2020 | Erath District Court | Bail Jumping | Dismissed |
| 2020 | Hood District Court | Possession Controlled Substance < 1g. | Dismissed |
| 2020 | Erath County Court at Law | Assault Bodily Injury/Family Violence | Dismissed |
| 2020 | Erath County Court at Law | Violation Protective Order | Dismissed |
| 2020 | Hood District Court | Possession Controlled Substance 4-200 g. | Dismissed |
| 2020 | Erath District Court | Possession Controlled Substance < 1g. | Dismissed |
| 2020 | Hood District Court | Possession Controlled Substance < 1g. | Dismissed |
| 2020 | Erath District Court | Possession Controlled Substance 1-4 g. | Dismissed |
| 2020 | Erath District Court | Aggravated Assault / Deadly Weapon | Dismissed |
| 2020 | Hood District Court | Contempt of Court | Sentence Reduced |
| 2020 | Hood County Court at Law | Violation of Protective Order | Dismissed |
| 2020 | Hood County Court at Law | Assault Bodily Injury / Family Violence | Dismissed |
| 2020 | Hood District Court | Writ of Habeas Corpus | Client released on PR bond |
| 2020 | Hood District Court | Possession Controlled Substance < 1g. | Dismissed |
| 2020 | Hood County Court at Law | Writ of Habeas Corpus | Client released on PR bond |
| 2020 | Erath District Court | Possession Controlled Substance < 1g. | Dismissed |
| 2020 | Erath District Court | Burglary of a Building | Dismissed |
| 2020 | Hood District Court | Possession Controlled Substance < 1g. | Motion to Suppress Granted – Case Dismissed |
| 2020 | Erath District Court | Possession Controlled Substance 1 – < 4g. | Dismissed |
| 2020 | Erath District Court | Possession Controlled Substance 1 – < 4g. | Dismissed |
| 2020 | Hood District Court | Possession Controlled Substance < 1 g. | Dismissed |
| 2021 | Erath District Court | Man. Del. Controlled Substance 4 – <200 g. | Motion to Suppress Statements – Granted |
| 2021 | Hood District Court | Possession Controlled Substance < 1 g. | Motion to Suppress Statements – Granted |
| 2021 | Hood District Court | Burglary | Motion to Suppress Statements – Granted |
| 2021 | Hood District Court | Possession Controlled Substance < 1 g. | Motion to Suppress – Granted – Case Dismissed |
| 2021 | Hood District Court | Burglary of a Habitation | Charge reduced from 2nd degree felony to state jail felony |
| 2021 | Hood District Court | Possession Controlled Substance < 1 g. | Dismissed |
| 2021 | Hood District Court | Assault on Peace Officer | Reduced to misdemeanor resisting arrest charge |
| 2021 | Hood District Court | Possession Controlled Substance 4 – <200 g. | Dismissed |
| 2021 | Hood District Court | Possession Controlled Substance 4 – <200 g. | Charge reduced from 2nd degree to state jail felony |
| 2021 | Hood District Court | Possession Controlled Substance 4 – <200 g. | Charge reduced from 2nd degree to state jail felony |
| 2022 | Erath District Court | Possession Controlled Substance 4 – <200 g. | Motion to Suppress Granted – Case Dismissed |
| 2022 | Hood County Court at Law | Possession of Dangerous Drug | Case Dismissed |
| 2022 | Erath District Court | Possession Controlled Substance < 1 g. | Case Dismissed |
| 2022 | Hood District Court | Arson / Possession Controlled Substance < 1 g. | Cases Dismissed |
| 2022 | Erath District Court | Manufacture / Delivery of a Controlled Substance, 4 – 200 g. | Case Dismissed |
| 2022 | Hood County Court at Law | Criminal Trespass of a Habitation | Case Dismissed |
| 2022 | Erath County Court at Law | Driving While Intoxicated | Case Dismissed |
| 2022 | Hood District Court | Possession Controlled Substance < 1 g. | Punishment reduced to Class A Misdemeanor |
| 2022 | Erath District Court | Engaging in Organized Criminal Activity | Case Dismissed |
| 2023 | Hood District Court | First-Degree Arson | Case Reduced to State Jail Felony |
| 2023 | Hood District Court | First-Degree Manufacture / Delivery of Controlled Substance | Pled to lesser-included State Jail Felony |
CIVIL CASES
| YEAR | COURT | TYPE/DESCRIPTION | RESULT |
| --- | --- | --- | --- |
| 2017 | Hood District Court | CPS (Appeal) | Parental Rights Restored |
| 2018 | Hood District Court | CPS | Parental Rights Restored |
| 2018 | Hood District Court | CPS (represented grandparents) | Parental Rights Restored |
| 2018 | Hood District Court | CPS | Parental Rights Restored |
| 2018 | Hood County | Non-Profit Accreditation | Restored |
| 2018 | Hood County | Tax Abatement | Granted |
| 2019 | Hood District Court | CPS | Parental Rights Restored |
| 2019 | Hood District Court | CPS | Parental Rights Restored |
| 2019 | Hood District Court | CPS | Parental Rights Restored |
| 2019 | Hood County Court | CPS | Parental Rights Restored |
| 2020 | Hood District Court | CPS | Investigation Closed / Dismissed |
| 2020 | Hood District Court | CPS | Parental Rights Restored |
| 2020 | Hood County Court | Family | Protective Order modified |
| 2020 | Hood County Court | Family | Opposing party's pleadings dismissed |
| 2020 | Hood District Court | CPS | Parental Rights Restored |
| 2020 | Hood District Court | CPS | Parental Rights Restored |
| 2018 | Hood Juvenile Court | Assault Public Servant | Lesser-Included (Assault) |
| 2018 | Hood Juvenile Court | Assault Bodily Injury | Not Guilty |
| 2020 | Hood Juvenile Court | Motion for Discretionary Transfer to Felony Court | Dismissed |
| 2021 | Bosque County Court at Law | CPS Appeal | Parental Rights Restored |
| 2022 | Hood – Child Protection Court | CPS (represented grandparents as intervenors) | Grandparents given custody of child |
| 2022 | Hood – Child Protection Court | CPS | Parental Rights Restored |
| | | | |